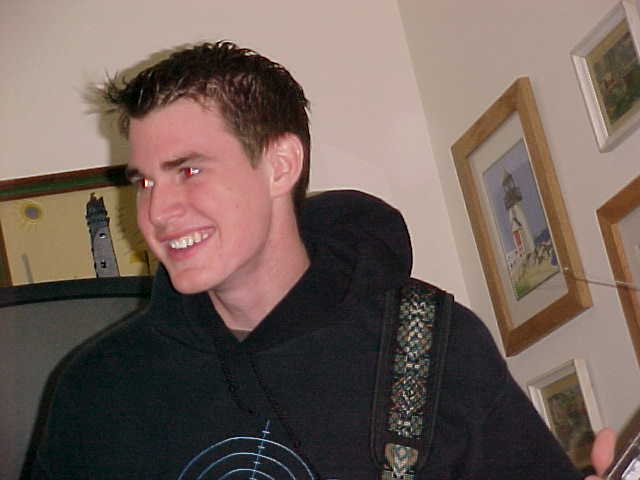 ------------------
*Name: Phil Perkins
*Nickname(s): Freakin
*Date of Birth: 10/06

*Eye Color:They change. Brown one minute...green the next!
*Hair Color: That changes too. Brown to blonde to spiked with red tips.
*Height: 6 foot
*Weight: 154lbs so i'm lanky who cares

*Marital Status: Taken, happily, by Leah.

*Occupation: Model/actor/skateshop guy

*Claim to fame: Getting rejected from a tommy Hilfiger Ad and having some really built black guy do it instead.

*Band duties: Bass and songwriting

*Inspirations: Leah, Sherlock John, Twine (when they were still around), Bassist from Rancid, Suicide Machines, Toasters, Ben (the bassist) from Big Fat Huge <- that kid is crazy, and Gary Coleman.

*Favorite Bands: Rancid, NoFx, Ataris, Strung Out, Don't Look Down, Pennywise, Bouncing Souls, Big Fat Huge, and anything from the Transformers soundtrack.
*Favorite Song: Too many to name
*Favorite Movies: Clerks, Mallrats, Porky's, Chasing Amy, Any Adam Sandler Movie, Transformers, GI JOE, BASEketBall, and other movies as well.

*Hobbies: Skateboarding, Bass, spending time with Leah.

*Rides: Element, Zoo York,Hook Ups, Fury Trucks, Speed Metal Bearings, Spitfire wheels

*Quote: "I play bass like you put out....Not very good and way not enough"

*Shout Outs: Leah, Mike, Gary, Jerry, Neil, Chico, Bill, Welke-and all his kids, Dennis (the Jew),Laura (neil's GF) Barbie (Gary's GF),Random Girls I know that i don't feel like listing but you know who you are, Don't Look Down, Big Fat Huge, PHILE, GXN, UPS, Yoohoo with Rum, and many more.